Who Makes The Best Salt Water Taffy?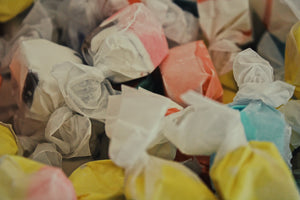 Finding the best salt water taffy can feel like an impossible task—but Purple Mountain Taffy Co. might be able to help. 
Salt water taffy is one of the most treasured treats in the world, but taffy can vary drastically from one brand to another. Though companies around the world are making salt water taffy with love, finding the best salt water taffy is no small task. Find out how one Colorado company is striving to be the best there is.
Defining the Best Salt Water Company
When we talk about tasty treats, defining something as the "best" can be difficult. Tastes and preferences can vary from one person to the next, meaning what one person loves might not even be in the running for another person. The best salt water taffy brand is one that caters to everyone, and Purple Mountain Taffy Co. is taking on this challenge.
Is the Taffy Delicious?
Before a brand of taffy can be described as the best there is, it must pass the taste test. A collection of positive reviews and experiences show that this company has countless taffy lovers that are very happy with the taffy that they offer. Delicious taffy is a great place to start when deciding which brand will rank above the rest.
Are There Flavor Options?
Most taffy lovers remember an era where the taffy world didn't offer all that much. Though it did provide delicious taffy, older versions often had few flavors and few differences between them. Purple Mountain Taffy Co. offers nearly twenty standard flavors and is always introducing more. Whether you want watermelon taffy or chocolate vanilla swirl taffy, this brand has you covered.
Do They Offer a Stunning Appearance?
Part of taffy's charm is the way that it looks, and this company goes the extra mile here. Offering a variety of different base colors and color blends, every single flavor of their taffy looks completely unique. These taffy pieces look great as presents and in gift baskets.
Do They Go the Extra Mile?
Taking over the taffy market isn't easy, but Purple Mountain Taffy Co. decided to take their business one step further. Knowing that not everyone shares the same passion for taffy, they also offer a variety of delicious treats, including caramels, fudge, and Bret Bars. Bret Bars are a completely original treat that you won't find anywhere else, blending chocolate, peanut butter, and crispy in an entirely new way.
Choosing Purple Mountain Taffy Co.
Picking the best salt water taffy company is something that you must do yourself, but some companies make it quite a bit easier. With this brand's growing list of treats, there is always something new to fall in love with. Lovers of sweets will find that Purple Mountain Taffy Co. makes treats that are designed to delight the tastebuds in a way that few other snacks will. Focused on serving Colorado and beyond, these taffy makers make it easy to choose them over the competition. Give us a call today!