What is the original salt water taffy?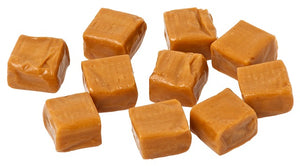 For most people summer means going to the beach, heading in the water, and eating popsicles. But for many, it also means eating saltwater taffy. Saltwater taffy is all over the beach scene, and even got its name due to originally being in proximity to the beach. It can be found on boardwalks and in seaside candy stores, and the origination story involves the beach. This is the story of the original salt water taffy.
Where the Original Salt Water Taffy Began
The original salt water taffy began in Atlantic City. To this day it is known as the home of water taffy, credited to someone named David Bradley. It is not necessarily a fact, but most people agree that David Bradley is responsible for the first salt water taffy in 1883. This year, there was a large storm in Atlantic City. Atlantic City was located on the boardwalk, and the boardwalk was flooded. Bradley was a candy maker who had a storefront on the boardwalk. When his store flooded, his taffy did too. 
The name originated when a girl asked Bradley if she could buy some taffy. He was still cleaning up the storm's mess, and said that he would get her some "salt water taffy". Other people heard this name and continued using it. This is where the name came from, and Bradly had the original taffy.
However, for a long time, salt water taffy was only found at a seaside stand. It took many years, and someone named Joseph Fralinger to make it a household product. 
Basically, Fralinger decided to take salt water taffy and bring it home. He made the candy in a way that it could be put in a box. This was new, and it made it easy for people to have it at home. By the 1920s there were 450 people making it, which was a lot at the time. There were different ways that each manufacturer would package it to avoid it melting and being sticky, since plastic was not widely used as it is today. 
In the years of today, salt water taffy is still found mostly near the water, especially on the east and west coasts. However, it can now be purchased at most candy stores, and across the country. We offer many several flavors of salt water taffy, and you can have it shipped right to your home. 
Contact us to buy the Best Salt Water Taffy around, maybe even better than David Bradley's.